The transformation of a rundown, uninhabitable motel into a shelter for the hurting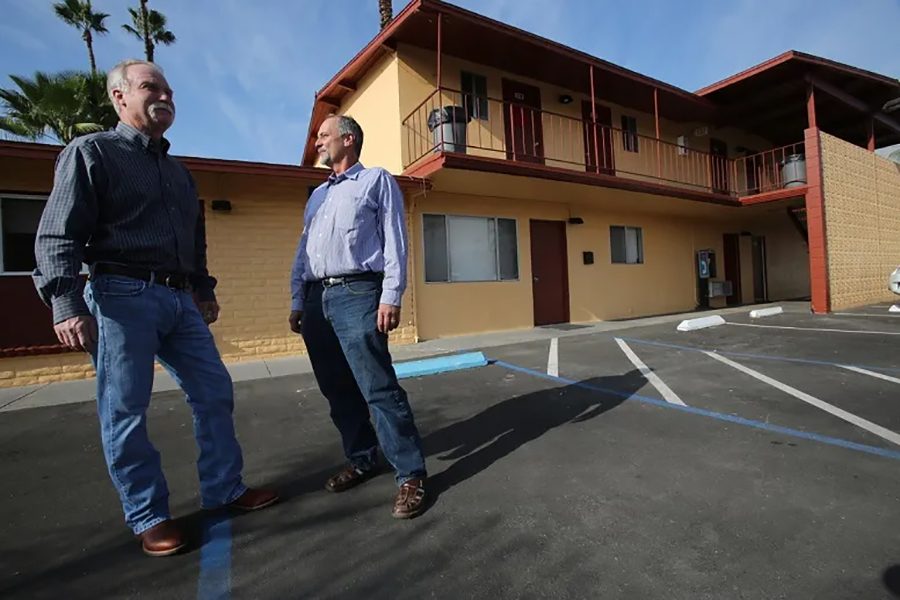 As the property manager for Hamann Companies, Harold Brown was instrumental in the purchase and renovation of the dilapidated Fabulous 7 Motel
Harold Brown: Visionary, Overcomer, and Victor
In 2005 while pastoring Christian Fellowship of El Cajon, Harold Brown was called upon to help a local church with 125 homeless people that were living in tents on the side of their church grounds. Having a proven track record of working at the San Diego Rescue Mission as their Director of Facilities, plus having been a homeless addict himself, Harold was the perfect fit as an advisor to remedy the situation.
Harold's tenacity, faith, and deep empathy drove him to never give up through several months of meetings and negotiations to help these people get off the street. Finally, he was able to set up the first and only homeless shelter known to El Cajon at that time. The need for a safe haven and restoration for the homeless grew, and during that winter he and several others from Hamann Companies located the Fabulous Seven Motel and began the needed renovations to make it habitable. With much opposition and many difficult city council meetings, the non-profit organization Alpha Project, was awarded the ability to operate the motel under a Proposition 36 drug diversion permit. Prop 36 requires that eligible non-violent drug offenders serve their time in a drug treatment program instead of in jail or prison.
Harold and his team were once again met with opposition by the Concerned Citizens of El Cajon who sued the City of El Cajon for a violation of the permit under the California Environmental Quality Act. After seven months of intense court hearings, the project was finally approved. Unfortunately by then, they had been pushed to the brink. The Alpha Project had lost interest, and after sinking about $4 million into uninhabitable rooms, the financial backers were discouraged. Clear of his purpose and total dependence on God's leading, Harold submitted a proposal to the city to convert the Prop 36 permit into the only emergency homeless shelter in East County. That's when the impossible became the possible.
Harold always believed that adversity provides an opportunity for growth. In his absence, his legacy of perseverance and faith continues on at ECTLC.
HAROLD BROWN
Founder and Former CEO, ECTLC
June 29, 1957 - January 20, 2022
With your help, our story can continue